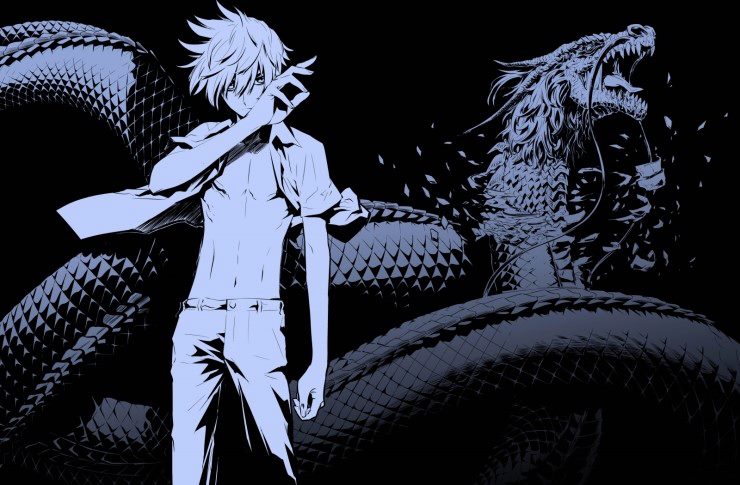 Name:
Saiga Ryuken
Nickname:
Rising Dragon
Age:
14
Cell Number:
105 322 1922
Nationality:
Korea
Year:
Freshman
Class:
Boxer
Chi Color:
White/Light
Appearance:
Saiga is of fair height and his posture is straight and strong. He takes the appearance of a young man with a fairly lean but muscular build with fair skin and deep brown eyes. He has a very distinct color of brown hair which is cropped down to his neck. With strands and bangs left flowing around his eyes. Saiga is stated to be very handsome to most, his height, build and posture greatly enhances this fact. He is slim but pretty well cut, and has pretty broad shoulders which make him look a tad bit bigger then he really is.
His clothing varies at times, he likes to wear as less clothes as possible sometimes. Mostly keeping to gym wear and work out gear. Rarely he will wear a nice casual outfit and something classy. He's not above looking good, he just likes to be comfortable.
Spoiler:
Abnormalities:
Personality
Personality:
With a natural air of charisma often called his natural charm, Saiga is a joy to be around. He is a fun and adventure loving young man. That will take his time performing anything, and will always move at his own pace.
He is also quite exuberant and never embarrassed to make a funny scene in front of people. He never really cares for what people think of him, or comment about him and has a high level of confidence and self-esteem. He is infatuated with the idea of exploration, adventure and surpassing the limits. Saiga's ambition burns hot; hotter than the very sun placed above the earth. This burning ambition turns into a blistering passion. Passion for himself, passion for the people close to him, and passion for the world around him.
His habits are rather hard to pin down, because he chooses to do things very spontaneously. He does things on a whim of interest, if he is enthusiastic about it. He loves travelling and going on adventures, so one wouldn't see him at one spot for to long. He likes to keep moving and never stopping. But most of the time he just wants to lay down and observe the world for all it's greatness.
Being the nice charismatic guy he is, Saiga becomes extremely hostile and battle-ready when something he care's for is on the line. When faced with a opponent; or just another person that means to cause him or the people he cares for harm, Saiga turns into a savaged beast and extremely impulsive. He's also very competitive, and can't stand not being able to push his body and mind past it's natural limits. Which makes him a bit arrogant and reckless from time to time. If there is one thing about Saiga's persona it's his pure determination and undying will to overcome. The kid simply doesn't give in no matter what the situation is; and has a ridiculous resolve matched by no one.
Likes:
Music
Competition
Adventures
Food
Companionship
Dislikes:
Cold Weather
Vile people
Fish
Losing
Not Trying
Hobbies:
Training: One of his main hobbies, he is constantly training, sparring, and fighting always trying to get better.
Swimming: He loves to swim, and enjoys being in the water. He is also very competitive when it comes to swimming always wanting to be the fastest.
Music: He is pretty talented when it comes to playing on the guitar.  But people barely know this as he always training.
Fears:
Fish: Ever since he was little he has always been scared of big giant fish, little ones don't scare him much. But when they are real big he can't even bare to move.
Failure: Saiga is afraid of failing at things, its why he tries so hard at everything he does He can't bare to fail. He has yet to learn how to make his failures into strengths.
Falling to the wrong path: On his quest for more power and being stronger, he is afraid that it will lead him to a path of darkness. In the end he hopes to keep his morality.
Inspiration:
"I want to be the best
I want to be the best, simple and plain
That's why I play the game
And to be the best you have to win
And that's what drives me"
Equipment
Name:
Ryui Jingu Bang
Type:
Bo Staff
Description:
Jingu Bang is a basic silver bo staff.
Appearance:
No Pic really
Effect:
Jingu Bang has the special ability of size alteration. Able to grow to incredible heights and shrink down to the size of a pen. Though its current limits are unkown Saiga has said he is able to increase Jingu bang's length to about 10 meters, and enlarge is width to about 2 meters for now.
Character Background
History:
Saiga Ryuken comes from a farmer's home with his mother and grandfather. It was always the same day in and day out, grow the crops feed the animals take care of the farm. It was a very basic and seemingly boring life for the young Saiga. He didn't know much about his father his mother never liked to mention him much. As long as Saiga knew he left one day and never came back that was the end of it. Nevertheless he had a fighters blood running in his veins.
While growing up Saiga was a very energetic child, very jovial, and always meddling into something but learning very quickly. His grandpa often noted that Saiga had an old soul, but a very powerful one. His presence would light up an entire room, and had a natural gift of charisma. Of course with the blood of a fighter flowing in his veins, it didn't take long for Sai to be interested in fighting. He knew little of his father because his grandfather knew it wasn't wise to speak of him just yet, but it was obvious on how similar he was to him. Plus little old grandpa couldn't stop the kid from chasing his dreams. So being a powerful fighter on his own Lion Okami trained him and trained him hard. Seeing the natural talent that Lion had, only made his grandpa proud.
His grandfather would take Saiga out training all the time, hiding it from his mother. Knowing his mom wanted nothing to do with that fighters league. But she to couldn't stop the young man's dreams and ambition. She secretly knew of their little trainning sessions but for some reason never said anything about it. She kind of accepted the fact that no matter how hard she tried she couldn't stop him something like destiny. Saiga and grandfather trained for years, increasing his experience, his talent was evident. He grew strong at a fast pace but still had allot to learn, that he could only learn in the school. When he finally was of age, he pleaded to his mother about letting him join after a thousand no's she finally broke down and got the courage to say "Yes. Yes you can join Rising Wolf."
RP sample:
Show us your stuff and how good you are at RPing. Only teachers are REQUIRED to do it but only good can come out of taking the time to do it. Please put it in a spoiler titled "RP Sample".
Face claim:
Character | Anime/Game/Manga if not a character please place the url of your face here. If you do not have a face claim at all, put N/A.