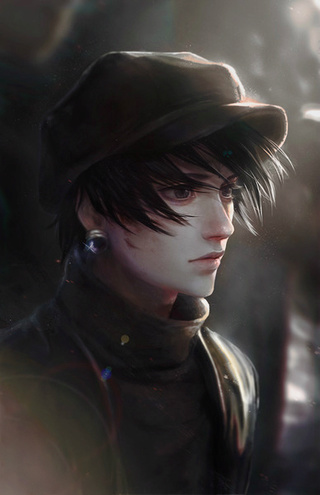 Name:
Grimnir Weiss
Nickname:
Grim
Age:
(17years) 06/04/2023
Gender:
Male
Sexuality:
none of your business
Class:
boxer
Chi:
Undiscovered
Face Claim:
Chrollo Lucilfer | Hunter X Hunter
Appearance:
Grimnir is a regular length nordic fair skinned male. His face looks like that of a pop star model with a defined jawline and soft but sharp nose, rosy cheeks and perfect eyebrows. He has green eyes that feature a hazel colored sun around the pupil and medium length eyelashes. Grimnir has the refined muscles of someone working out at the same time as he because of his high metabolism has a low amount of visible bodyfat making him look kind of thin. His hair is jet black in color and cut at medium length meaning that it hangs down to under the eyes and covering the nape at the back. Grimnir often wears a hooded autumn leather jacket and a pair of brown cargo pants or black jeans. However when Grimnir feels that he should wear something more formal he either wears a black suit or a large very over decorated gothic outfit. He also fancies wearing some jewelry and accessories such as his quite large orb like earrings and a necklace that features the cross of saint peter. One thing that he is always seen carrying no matter what type of clothing or jewelry he is wearing is his diary.
Appearance:
Height:
186cm
Weight:
78kg
Special Characteristic:
Cross tattoo on his forehead.
Personality:
Minimum of 350 words.
Likes:
Name some things you like and explain why. (4 likes at least)
Dislike:
Name some things you dislike and explain why. (4 dislikes at least)
Hobbies:
Talk about your hobbies and tell us why you like them. (2 hobbies at least)
Fears:
Name some things you're scared of and tell us why. Don't worry we can keep a secret. (3 fears at least)
Motivations:
What motivates you to do whatever it is you do? (2 motivations at least)
Ethnicity:
Swedes
History:
Grimnir grew up as one of the nobility in sweden. His parents were both very strict people that would not allow failure so much that they would turn to physical violence if any of their children were to fail and so Grimnir grew up studying under the best private teachers. It was not until Grimnir developed chi that his parents had ever questioned his right to take over the family company since he was the first born. However because of the fact that he started developing more and more chi sensitivity Grimnir quickly got frozen out by his parents as they did not want him to clutter their family heritage. Therefore it was decided that Grimnir was never to inherit the family company and was to be removed from the family ancestral books. He was pretty much erased, given a new identity and then sent away from home. Instead he was sent to join one of the sub families of the noble house.
Cell Number:
105-666-1337.
Status:
Senior
School Club:
Arts
Alias:
Grim
RP Sample:
'N/A'.