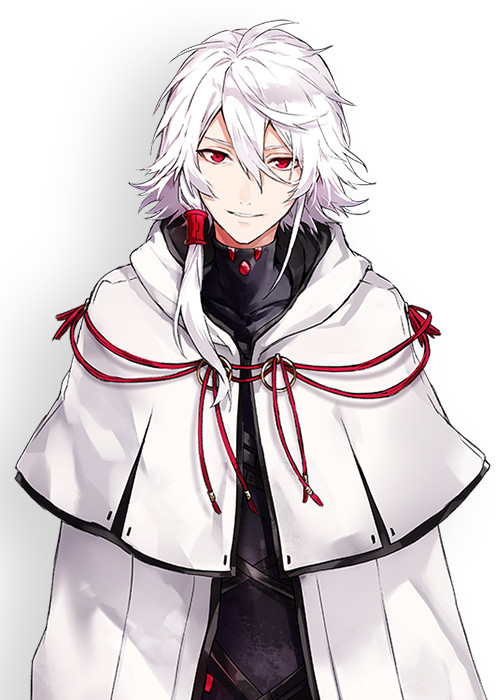 Name:
Inari Heureux.
Nickname:
n/a
Age:
17 | 4th July.
Gender:
Male.
Sexuality:
Sapiosexual.
Class:
Blacksmith.
Chi:
Undiscovered.
Face Claim:
Yaha-kui zaShunina| Kado: The Right Answer
Appearance:
Contained within the heirlooms of genetics and mutation, somewhere in those convoluted corridors lies an exact description of Inari. However in many regards, the permutations of anatomical structures his life course have seen him through have deviated the man from what would have otherwise transpired had nature been allowed to fully doff the cap of helmsman and steer the ship as she saw fit. Indeed, have such a rambunctious beast been allowed to study the compass and report to the Captain -standing surefast and ever present against the mighty trade winds- 'Capt'n, this vessel is doomed. Surely we should scupper and save ourselves!'. Inari has never entertained such suggestions and this is reflected on his face, be in the steely resolve that catches the sun in lurid vermilion orbs or the scars which he bares on his face and body. Each one a graffiti lording his dominion over the virtue of a predetermined destiny. 'Neath his left eye he bares the faded remembrance of one of his own blades turned against him, each one a lesson in his own failure. Inari stands as a vessel of reconstructed incompetence and often wears an aloof visage of amusement and benevolence. White hair, long and tangled. Restrained by a red bangle on his left hand side. His clothes vary from day to day and are not prescribed by subscription to some greater entity of fashion or combat stylistics as he has limited use for such things. His body is best described as one that heavily falls under the isomorphic banner of an metamorphic individual - featuring a thin slender frame which belies the hidden coils of his musculature.
Height:
178cm.
Weight:
63.94kg.
Special Characteristic:
Across the upper left handed quadrant of Inari's thorax lies a irritated nest of scars, glowing with the angry embers of deeply inflicted wound which were reopened again before they truly had the chance to heal. Whilst sleeping he does not snore insomuch, and even the movement associated with breathing cannot be seen - instead a faint whistling is the only indication of the expansion and contraction of his lungs.
Personality:
Inari possess a rather remarkably personality in that he believes that he possesses the traits to rule, but knows that he doesn't have required stability for the task. He's both prone to emotional instability, yet his resilience and determination are the very things that define his responses to these two failings. This very determination is often mistaken for outrageous arrogance and - it frequently is- an increasingly obvious superiority complex, however the male only does this out of his fundamental beliefs which are utterly malevolent - but that's a matter of perspective as he well knows. Growing up relying primarily on his own mental and physical prowess has made him a bit insensitive and cold hearted when social sensibilities are in question. Bluntness when socially inappropriate, even to the point of being offensive do not terribly concern him. This personality of his makes Inari seem to be an enormous, 'dick' for lack of any better word. Alas, this is just his outside personality. Like every other person, the onion of a mask he wears is near infinitely thick. By the same token, his knowledge of social interactions also makes him painfully aware of the toes he treads on when he speaks without pause for thought.
Few have ever gotten a sensitive remark from Inari, and even fewer have received thanks from him. Now this may seem ungrateful, but Inari doesn't believe in giving people free gratitude. One must earn respect and attribution, rather than be given it out of pity or simple existence. This may just seem like an excuse for his behaviour, however there is one other factor to add to the equation. His actual intelligence. Many in the world tend to look at things from a black, white grey and everything in between perspective. This is common in virtually all cases. It is what starts wars, and why the peace treaties last for only a short while - from a historical perspective. Iouri prides himself on being a man who sees only grey. No one is purely innocent and no one is purely guilty.He realises the differences between cultures, understands what causes conflicts, and knows that nothing is ever just black and white.
Inari typically to actually seems to have a soft side for, well, cute things. Whether it be adorably shaped pastries, cute animals or small people, he will simply fall in metaphorical love with them. When it comes to people, this weakness becomes even more evident. His captivation of adorable things makes him incredibly trusting of these very things, and could easily lead to his demise should an adorable assassin come and attempt to kill him. Even though he simply can't say no to such things, he does have a brain. After only five or six backstabs will he finally realize the malicious intentions of this cute artifact. Since Inari views malicious intentions to be very un-cute, the infatuation is usually lost, and the male has no remorse getting back at the foe.As for his actual fighting personality, it's not very different from his usual personality. When in combat with any regular foe, he'll remain carefree and usually toy with his enemy, not really having any attempt to kill them. In fact, whenever he measures someone to be weaker than him, his main strategy is to simply 'wait it out'. He knows that the enemy would have far more to prove, and would therefore try harder.
Using a bit of psychology and manipulative words, Inari usually attempts to force the enemy into overexerting by simply playing defensive and annoying. However, things become very different when he acknowledges a credible foe. The carefree attitude may show itself at the beginning, primarily to judge his enemy's capabilities, however once their skillset is confirmed to be dangerous, he switches over to a more heartless set of tactics. His fighting style is incredibly bloody, though not in a literal sense. He's just incredibly twisted mentally. He loves watching his enemies slowly suffer at his own hands, and will draw out a battle for as long as possible, simply to soak in their agony. Even when losing, Inari will never try to simply win a fight. Instead, he will continue to torture his victims using all possible variables from within the environment.
Since he entered his teens, Inari has been plagued by his unique cybernetic cognition. Being intimately familiar with nearly the entirety of information that humanity has bothered to record makes him a little single-minded in that regard. It is not that he chooses to be an asshole, but rather, he has no choice. However, Inari is not at all a serious man. He may have serious emotional issues, and many strict codes of conduct, but he never acts this way. Around anyone for that matter. It is simply not the man he is. His ego and optimism are what contribute to his carefree and luxurious lifestyle. By having plentiful amounts of self determination, he simply has nothing to fear. Now, that's not saying he has no fears. He does have those, but his only materialistic fear is that of insects. He does not even fear death, for he understands life is about accomplishing what one can while they are around, nostalgia over death is just another sign of weakness which he cannot behold. Now these other fears of his, are more revolved around him not finishing the task he has been given. This isn't a shallow idea such as forgetting to sign a few peace treaties. No, this is on a fundamental level. Inari's greatest fear is that he won't have enough time to accomplish his lifetime goals, and is the only thing that ever keeps him up at night.
Likes:


Everything instant, especially coffee which he will drink above nearly everything else.

Beauty in all it's forms, Inari enjoys entertaining the sensation of awe and nothing else inspires this in him than beauty - which is often the signal that something is close to perfection in some aspect of it's existence.

Cute things. Adorable, Inari finds his world is easier in the presence of eye candy.

Dislike:


Excessively classy food, often takes time to prepare and can be seen as an inconvenience. Inari sees it as wasted time and whilst he appreciates the beauty that some food comes with often finds it a wasteful venture in terms of time expenditure. And he may or may not be addicted to instant coffee.

Insects. Confusing structures of which he cannot discern their form or functions. Somewhat annoying to be around and unfortunately distinctly 'uncute' while also possessing the capacity for beauty.

Boredom. Time wasted is disrespectful to the woman who gave her life so that he might live through the implanted heart in his chest.

Hobbies:


Reading, Inari finds little else as invigorating as consuming the production of someone else's thought process as a means of self-improvement.

Playing and writing music, an expression of beauty which Inari has a personal fondness of as he has personal expertise in the area.

Pursuing intellectual entertainments (women, games of strategy, etc), anything which stays the baying hounds of boredom.

Fears:


Being forgotten as a nameless man in a cruel and harsh world, which represents his fear of not being meaningful to someone in some respects. In his eyes as part of an individual who has already tasted death on his tongue this is the most surefire way of guaranteeing immortality.  

Dying before he is able to accomplish his goals, plays into the greater fear of impotence and the futility of life coupled with letting down the three expectations of others he carries on his heart and shoulders.

Motivations:


Meeting cute things and people, everyone needs something to make them get out of bed in the morning and stay up.

Watching the sunset, the marker of the end of the day and his successful passage of another celestial carriage of the sun through the sky.

The pursuit of perfection, his ultimate goal in life. Perfection takes many forms and experiencing as many as possible is the height of his ideals.

Ethnicity:
Promethean.
History:
"...There was a crooked man,
Who wore a crooked smile,
And he walked a crooked mile…"
The genesis of our story stems, like many others, from the process of childbirth. Formulated in a similar methodology of others cut from the same cloth as his own, Inari's story contains a multitude of genesi. Catalytic events which propel him into the current being that he exists as. A peculiar anomaly of human and spirit, who at conception was nothing but a defective small child. Born premature: weak of body and frail was the tenuous grasp the infant had on life. Congenital heart defects plagued the young boy, and it took some time for the family to adjust to the peculiarities that were associated with their son. Inari's heritage stemmed from the snakeoil of statesmanship and the patronage of flower shops, musky bars and the scents of timeworn books. A musician, classical by academic paradigm and a revolutionary by nature. Marian Kingsman, a woman whose stature could never hope to match her towering emotional waves. Her calmer, slightly more temperate half tempered out her other half's volatile emotions but would come to provide the sterner and more inflexible of the parent in times to come. It took Inari some time to understand the slightly eclectic nature of his parentage: two women was one inegral standard point of deviation outside of the norm of male / female parenting pairs.
It wouldn't be until Inari began to fully associate with his peer group that he understood the dynamic of his domestic life which drew peculiar looks from the other family groups. Even then, Inari was gifted with a naivety which would soon be brusquely sheared from his eyes. His first adventure upon the newly established links within the classroom resulted poorly, leaving him more confused about the social intentions of others than before. This would be the first fraying of the social attachment between Inari and his social group - a rope which would become increasingly worn as time went on. Directly confronted as is the want of childish curiosity, Inari found himself the source of curiosity.

"Where's your Father?"
"Why doesn't your Dad ever drop you off?"
"Two women can't have a child!"
These questions and their unerring desire to hear something which would confirm his peculiarity in their eyes. It would ultimately be this burning childlike curiosity which would lead to the first accident. The setting is simple, and not an uncommon incident of predication within the first few minutes of escape from the schoolyard. Accosted on the road back towards relative safety a young band of boys descended upon him, the familiar and hated call of 'Inu!' heralding their approach. They did not see it as bullying per se, it had become standard interaction and an obvious exception to them from their personal mental schema of what mistreatment of a classmate might look like. But all too soon that carelessness and Inari's steadfast determination ensured that verbal became physical. Already suffering from a weakened cardiac musculature, the ensuing incident would prove to be a crucible of reconstructions - a mighty pyre from which the weak mortal coil might be tempered anew by supernatural force. Bordering close to the doldrums of the physical world - lay that of the immaterial: spiritual plane and the price of crossing over for the inhabitants of the immaterial to the material was a costly one indeed. The tollbooth between worlds merely asked for their immortal essence and then they were free to pass. To some, worth the price. To others they did not truly mourn their removed zietgiest until inconvenience clashed horns with their prideful hubris - recalling to them their own trappings within the material. Two entities found each other in their hour of need. Inari lay broken, ichor seeping from his body as the former seraphim known merely as Sleanc-Zacio or Yuiki in more colloquial Japanese terms. The human frame was designed for many things, but the brunt force trauma had tested the weakened cardiac structure of his heart and found it wanting. Whilst neither would be able to survive on their own, they found the capability to endure in unity.
"Do you want to live, youngling? Just take my hand. Help is on its way..."
And grasp the ethereal palm preferred to him, Inari did. Whilst the immaterial sustained his dwindling candle of life the physical structure of the human body stabilised the spirit and provided it safe haven from the ravages of the world which would else have torn apart its weakened cabalistic architecture. As the red and white sirens descended upon them, Inari found himself grasped with a simple thought of clarity as darkness stormed his optics and the only sensation he knew was the feeling of the stake of agony which punctured the centre of his chest. Rushed into emergency surgery it was more due to luck than anything else that the young boy survived but even then, whilst a replacement organ was sourced he was placed on life support and for two days it was touch and go. A medical mystery in some respects. As he drifted between life and death the colour from his hair slowly drained - a sign of the strain the process was putting on his body as his fingernails fell off and skin grew dry and cracked. But survive he did and from his metamorphosis of cessation - something other than the timid boy whom his parents had waved goodbye too earlier that week emerged. Tainted optics which had surveyed the landscape of the underbelly and found it wanting. He has now set his sights on the Rising Wolf Academy, striving to create a world better suited to his ideals.
Cell Number:
(015) 011 235 813
Status:
Junior
School Club:
Student Council | Arts | Research.
Alias:
n/A
RP Sample:
n/A